North American stock markets slip from record highs as investors await Q1 results
3 min read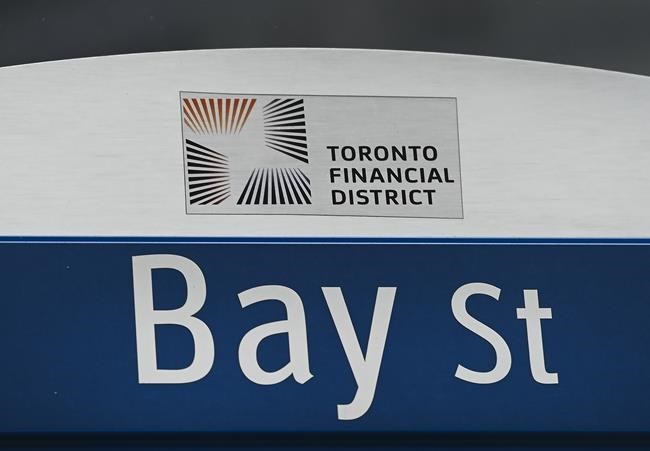 TORONTO — North American stock markets slipped from record highs to start the trading week as investors paused while they wait to see if earnings results in the coming weeks meet lofty expectations.
"We have reached record highs on Friday so I think investors are just taking a break, taking a pause, and they're waiting for the earnings results that we're going to see this week and next week," said Pierre Cleroux, chief economist for the Business Development Bank of Canada. 
The S&P/TSX composite index closed down 146.90 points to 19,204.42 after climbing as high as 19,380.68 on Friday.
In New York, all three stock markets lost ground after the Dow Jones industrial average and S&P 500 set new records. The Dow lost 123.04 points at 34,077.63 and the S&P 500 was down 22.21 points at 4,163.26. The tech-heavy Nasdaq composite was down 137.57 points at 13,914.77. 
The tech sector was down in Canada and the U.S. after a few strong weeks.
Shares of Shopify Inc. decreased 5.2 per cent while Lightspeed POS Inc. was 3.6 per cent lower.
The U.S. tech sector was hurt from a 3.7 per cent decrease in Tesla shares after two people in Texas were killed in a crash of one of its models. 
Cleroux doesn't see Monday's move in the sector to be worrying.
"I don't think it's a reverse of trend. I think it's just the fact that these stocks have been increasing so much over the last few weeks so the investors are taking a break and waiting to see the earnings."
Monday's federal budget might provoke some market reaction on Tuesday, while good economic data has helped the strong market performances of late, he said in an interview.
Investor sentiment has been supported in the U.S. by high numbers of COVID-19 vaccinations that are expected to be a key element of economic growth.
The first quarterly earnings last week from U.S. banks were very strong, raising expectations for the first quarter as a whole.
"If the results are as positive as expected, I think the market will continue to be good, while if the opposite, we'll have a tough week," said Cleroux.
The Canadian economy has been resilient despite the pandemic as employment has almost entirely recovered from losses last year.
On Monday, the annual pace of housing starts soared 21.6 per cent in March compared with February, according to Canada Mortgage and Housing Corp.'s latest report.
The results didn't directly impact the stock market but was positive news about the economy, said Cleroux.
Nine of the 11 major sectors of the TSX were lower on the day, with only consumer staples and telecommunications higher.
Besides technology, materials, energy and industrials were among the biggest laggards.
Materials dropped 0.76 per cent on lower gold prices.
The June gold contract was down US$9.60 at US$1,770.60 an ounce and the May copper contract was up seven cents at nearly US$4.24 a pound. 
Energy was also impacted by a decrease in crude oil prices after the commodity's recent acceleration.
The June crude contract was up 24 cents at US$63.43 per barrel and the May natural gas contract was up 6.9 cents at US$2.75 per mmBTU. 
Whitecap Resources Inc. was down 3.1 per cent while Vermilion Energy Inc. lost 1.8 per cent and Seven Generations Energy Ltd. was down 1.4 per cent.
The Canadian dollar traded for 79.88 cents US compared with 79.98 cents US on Friday. 
This report by The Canadian Press was first published April 19, 2021. 
Companies in this story: (TSX:WCP, TSX:VET, TSX:VII, TSX:SHOP, TSX:LSPD, TSX:GSPTSE, TSX:CADUSD=X) 
Ross Marowits, The Canadian Press